This War of Mine tựa game sinh tồn trong môi trường chiến tranh, nội dung game là một câu chuyện độc đáo về góc khuất của chiến tranh, tính mạng của con người là thứ không đáng tiền nhất. Một tựa game thú vị từng đoạt giải thưởng do khán giả bình chọn tại Independent Game Festival.
This War of Mine mở ra một góc nhìn khốc liệt về chiến tranh, những người dân thường, những kẻ sống sót lại giữa vòng chiến sự, những con người tay không tấc sắt buộc phải cố gắng sống sót khi hiểm nguy rình rập họ từ khắp mọi nơi.
Nội dung game
This War of Mine cho phép bạn vào vai nhiều nhân vật vô danh trong game. Trước cuộc chiến, họ có cuộc sống riêng, có thể hạnh phúc, có thể không. Thế nhưng tất cả đều đảo lộn hoàn toàn khi cuộc chiến bắt đầu. Giờ đây ban ngày họ buộc phải trốn trong những căn nhà bị vũ khí quân sự tấn công đến tan nát, chia nhau canh gác để không biến mình trở thành con mồi của những mối đe dọa trong game, từ những gã lính bắn tỉa nằm rải rác quanh thành phố, cho tới cơn đói, rét hay bệnh tật, và thậm chí là cả những kẻ sống sót khác, chấp nhận làm mọi thứ để sinh tồn, kể cả việc tước đoạt tính mạng những người không quen biết khác.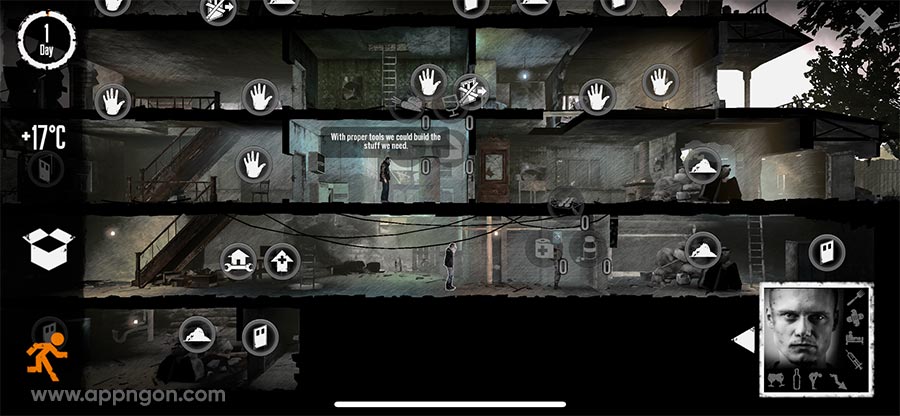 Với những ưu thế từ lối chơi và cốt truyện, This War of Mine đã nhận được những đánh giá cao từ các chuyên gia nói riêng và game thủ trên thế giới nói chung. Và đây cũng chính là lý do mà 11 bit studios đã đưa sản phẩm này lên nền tảng di động.